Spawn Command
admincheat summon cw_Death_Character_BP_C
or
admincheat SpawnDino "Blueprint'/Game/Mods/CubeWorld/Blueprints/Animal/cw_animal_death/cw_Death_Character_BP.cw_Death_Character_BP'" 500 0 0 35

Yes
No
No
Preferred Food
Dark Magic Stone
The Soul Reaper is one of the creatures in Pixark.
Museum descriptions
[
]
Wild
[
]
Soul Reapers are one of the most intimidating beings known to roam in PixARK. The sickles they wield are known to steal one's very soul.
Tame
[
]
Note:This is the in-game description, but Soul Reaper is actually tameable.
Humans are as yet still unable to communicate with Soul Reapers in any meaningful way, and are unable to tame them.
Handbook description
[
]
Capable of seizing one's soul, A Soul Reaper carries a scythe that is said to be a replica of the one carried by the Lord of Death himself.
Appearance
[
]
A floating gray skinned humanoid wearing a black robe carry a scythe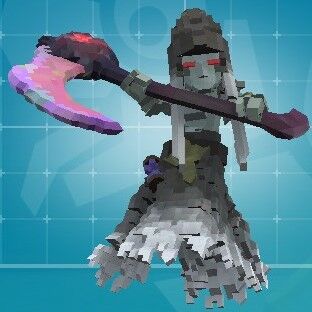 Behavior
[
]
Above ground Soul reapers randomly patrol small areas of the dark forest . Underground they can often get stuck in the tunnels. when a soul reaper see's a human or its tame it will attack relentlessly until either are killed.
Drops
[
]
Stats
[
]
1Percentages are based on the value of the stat the moment the creature was tamed (after taming effectiveness)
2The Base damage for this creature is not yet known.
3Movement speed is always 100% and can not be leveled
4Torpidity increases every level on wild creatures, but can not be increased once they are tamed.
Movement Speed
Movement Type
Base Speed
Sprinting

Stamina Used

Wild
Domesticated
Walking
260
N/A
N/A
40
Swimming
300
N/A
N/A
N/A
Flying
500
600
600
3
Taming
[
]

Note: Non-magical Sleepy Arrows fired from a bow or crossbow deliver extra torpor over time for 5 seconds after impact. Only two instances of this effect can be in effect at once - a third arrow hit before the effect has fully resolved will result in potential torpor being wasted. For maximum efficiency, time your shots so that they land 5 seconds apart. The numbers given here are assuming you do so.
For passive tames, there is a long wait between the first and second feedings as the creature eats, after which it follows the feeding intervals listed. These feeding intervals are estimates - the actual interval will vary per-creature based on random chance.
Level 1
Time
Dark Magic Stone
7
0:42:00
Dark Magic Stone Essence
13
0:39:00
Primary Magic Core
43
0:43:00

KO

: × 12; × 20
Level 30
Time
Dark Magic Stone
8
0:48:00
Dark Magic Stone Essence
16
0:48:00
Primary Magic Core
53
0:53:00

KO

: × 14; × 23
Level 60
Time
Dark Magic Stone
10
1:00:00
Dark Magic Stone Essence
19
0:57:00
Primary Magic Core
63
1:03:00

KO

: × 16; × 26
Level 90
Time
Dark Magic Stone
12
1:12:00
Dark Magic Stone Essence
23
1:09:00
Primary Magic Core
74
1:14:00

KO

: × 17; × 29
Level 120
Time
Dark Magic Stone
13
1:18:00
Dark Magic Stone Essence
26
1:18:00
Primary Magic Core
84
1:24:00

KO

: × 19; × 32

KO Strategy
A Soul Reaper is a Knockout method. To knock it unconscious you will need Magic Sleepy Arrows using either a Bow or Crossbow. It will need Dark Magic Stone or Dark Magic Stone Essence or Primary Magic Core to be tamed
Combat
[
]
Run. And shoot him with Magic Sleepy Arrows.
Utility
[
]
When you place items in a Soul Reaper the weight of the item is less. This makes them great for farming. They do move slow, but if you are farming in dangerous areas, they are also VERY good protectors.
Additional notes
[
]
Trivia
[
]