The Pteranodon is one of the creatures in Pixark.
Museum descriptions
[
]
Wild
[
]
Wild Pteranodons are very cautious creatures. They are hard to catch, as they often fly away at the first sign of danger.
Tame
[
]
Pteranodons make for swift flying mounts, and are good at both reconnaissance and combat. They are vulnerable, however, and tire easily.
Subspecies
[
]
The Grassland subspecies of the Pteranodon can deal an extra spin attack with more stamina consumption.
Appearance
[
]
A mostly Blue Flying creature with Bat-like wings.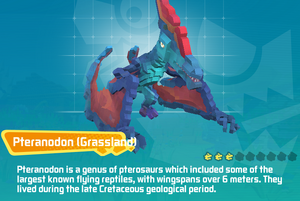 Grassland Subspecies
[
]
The Pteranodon has a subspecies in the Grasslands biome that is distinguished by it's much darker blue body, pink wings/crest and a much thinner overall design.
Behavior
[
]
Passive unless eggs are disturbed, will fly away if attacked. If eggs are disturbed (including eggs laid by tame Pteranodons!) they will attack by diving at the target, making them hard to deal with if no ranged weapon or flying Dino is available.
Drops
[
]
Stats
[
]
1Percentages are based on the value of the stat the moment the creature was tamed (after taming effectiveness)
2The Base damage for this creature is not yet known.
3Movement speed is always 100% and can not be leveled
4Torpidity increases every level on wild creatures, but can not be increased once they are tamed.
Movement Speed
Movement Type
Base Speed
Sprinting

Stamina Used

Wild
Domesticated
Walking
260
N/A
N/A
6
Swimming
300
N/A
N/A
N/A
Flying
600
1649.999634
1897.5
0.275
Taming
[
]

Note: Non-magical Sleepy Arrows fired from a bow or crossbow deliver extra torpor over time for 5 seconds after impact. Only two instances of this effect can be in effect at once - a third arrow hit before the effect has fully resolved will result in potential torpor being wasted. For maximum efficiency, time your shots so that they land 5 seconds apart. The numbers given here are assuming you do so.
For passive tames, there is a long wait between the first and second feedings as the creature eats, after which it follows the feeding intervals listed. These feeding intervals are estimates - the actual interval will vary per-creature based on random chance.
Level 1
Time
Kibble (Dodo Egg)
1
0:06:01
Raw Thigh Meat
2
0:04:01
Cooked Prime Meat
4
0:08:25
Cooked Prime Meat Jerky
4
0:08:25
Meat
6
0:09:01
Cooked Meat
11
0:11:01
Cooked Meat Jerky
11
0:11:01

KO

: × 22; × 14; × 1; × 1; × 1
Level 30
Time
Kibble (Dodo Egg)
1
0:06:01
Raw Thigh Meat
3
0:06:01
Cooked Prime Meat
5
0:10:31
Cooked Prime Meat Jerky
5
0:10:31
Meat
7
0:10:31
Cooked Meat
14
0:14:01
Cooked Meat Jerky
14
0:14:01

KO

: × 28; × 18; × 2; × 1; × 1
Level 60
Time
Kibble (Dodo Egg)
2
0:12:01
Raw Thigh Meat
3
0:06:01
Cooked Prime Meat
6
0:12:37
Cooked Prime Meat Jerky
6
0:12:37
Meat
9
0:13:31
Cooked Meat
17
0:17:01
Cooked Meat Jerky
17
0:17:01

KO

: × 35; × 22; × 2; × 1; × 1
Level 90
Time
Kibble (Dodo Egg)
2
0:12:01
Raw Thigh Meat
4
0:08:01
Cooked Prime Meat
7
0:14:43
Cooked Prime Meat Jerky
7
0:14:43
Meat
10
0:15:01
Cooked Meat
19
0:19:01
Cooked Meat Jerky
19
0:19:01

KO

: × 41; × 26; × 2; × 1; × 1
Level 120
Time
Kibble (Dodo Egg)
2
0:12:01
Raw Thigh Meat
4
0:08:01
Cooked Prime Meat
8
0:16:49
Cooked Prime Meat Jerky
8
0:16:49
Meat
11
0:16:31
Cooked Meat
22
0:22:01
Cooked Meat Jerky
22
0:22:01

KO

: × 47; × 30; × 2; × 1; × 1

You can tame the Pteranodon by knocking it out and feeding it meat. The torpidity does drop at a decent rate, so make sure to have Narcoberries or Sleepy Potions on hand if taming a high level Pteranodon.
Be careful of killing Pteras by accident when trying to tame one, they have very little health. Use a Bow with Sleepy Arrows and always aim for the body, headshot damage is very likely to kill a Ptera, especially with Crossbows.
Combat
[
]
Low damage Flying Carnivore.
Utility
[
]
The Pteranodon is one of the fastest and easiest-to-get flyers in Pixark but lacks the durability and combat-effectiveness of higher-level mounts. They have low stamina when freshly tamed and are easily killed so a wise player maintains a stable of several birds.
Corpse Retrieval
[
]
The Pteranodon's speed makes it excellent for quickly getting back to your death site should there be a tame still alive nearby in a dangerous area. Having at least 2 spare Pteranodons or other fast mounts can mean the difference between saving a tame and losing one in dire situations.
Scouting
[
]
The Ptera is a valueable creature for scouting ahead in hazardous biomes at a safe altitude and exploring the map. A regular Ptera is better suited for travel due to it's spin attack, which costs half the stamina that it's Grassland subspecies uses when doing the spin.
Taming
[
]
Pteras can be used to attack and kite creatures into traps, beware of losing your mount though to stronger creatures or running out of Stamina, Pteranodons are not very durable in combat. You can also work together with another player in your tribe by picking them up and holding them in the sky so they can safely shoot at a creature.
Carrying
[
]
Pteranodons can carry the following creatures and Players.
Additional notes
[
]
Due to the Pteranodon's fragile body, a Sleepy Dart shot from a Longneck Rifle will usually kill the Pteranodon. Survivors are recommended to use a Bow or Slingshot.
The Grassland subspecies's spin attack costs twice as much Stamina and is able to hit the same targets twice within about half a second during the beginning of the spin.
Current bugs:
When going into water the creature gets stuck in the air!
Trivia
[
]