The Plateau Tree Seed is a plantable seed in Pixark.
Overview
[
]
Plateau Tree Seeds are dropped from Golden Maples, which are found in the Golden Realm Biome. They also drop from Mysterious Valley Trees which can only be found in the Golden Realm Biome's center zone. Plateau Tree Seeds grow to become autumnal looking trees similar to Golden Maples.
They are good for harvesting Wood, but also nice for decoration.
Usage
[
]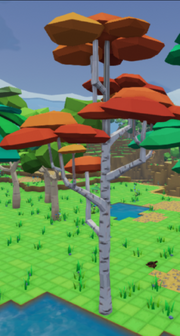 Used to grow a Plateau Tree can which can be harvested for Wood and Plateau Tree Seeds.
Needs to be planted on grass or Dirt and needs to be irrigated.
Additional notes
[
]