No
1
No
2
No
1Plantable via seeds.
2Immobile.
Magic

Yes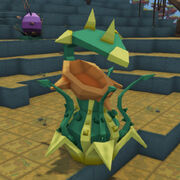 Nepenthes is a hostile plant found in the Dark Forest.
As with other Plant creatures, they have a chance to drop seeds which can be grown in the Large Crop Plot to be used as automated base defense. Plants requires fertilizer and water to be planted, and must have both at all times or it will die.
Upon being planted, the seed will go through three stages of growth. For Nepenthes, the first 2 stages take 22 minutes each, and the final stage takes 4 minutes.
Can be found
[
]
Drops
[
]