Minitrain
Minitrain
This track can take you wherever you want.
Structure
Type
Vehicle
Health
1,200
Item slots
20 ( 5000)

Size

1L × 1W × 1H
Fuel
Coal
Item
Weight
4
Stack size
100

Spawn Command

cheat giveitem "Blueprint'/Game/Mods/CubeWorld/Blueprints/Buildings/BuildingBPs/CW_BuildingBP_MiniTrain_MineralTrain.CW_BuildingBP_MiniTrain_MineralTrain'" 1 0 0

Crafting
Required level
Level 38
Engram Points
10 EP
Skill
Industrial
Crafting XP
0.2656 XP
Crafting Time
Used to craft
0 items
Used to craft
0 items
Ingredients
Minitrain
128x128px
This track can take you wherever you want
Structure
Type
Vehicle
Health
1,200
Item slots
20 ( 5000)

Size

1L × 1W × 1H
Fuel
Coal
Item
Weight
4
Stack size
100
Item ID
417

Spawn Command

cheat giveitemnum 417 1 0 0

or

cheat giveitem "Blueprint'/Game/Mods/CubeWorld/Blueprints/Buildings/BuildingBPs/CW_BuildingBP_MiniTrain_Train.CW_BuildingBP_MiniTrain_Train'" 1 0 0

Crafting
Required level
Level 38
Engram Points
10 EP
Skill
Industrial
Crafting XP
0.5335 XP
Crafting Time
1s
Used to craft
0 items
Used to craft
0 items
Ingredients
The Minitrain is an item in Pixark used for the transportation of goods and structures, and to a lesser degree, survivors and creatures. They use Coal for fuel.
Minitrains are vehicles that can transport items. They are very much a 'Work in Progress' and needs a fuel source to function with three slots for fuel.
There are 3 types of Minitrain, two called Minitrain and one called Train Building Platform. The first looks like a Minecraft minecart for hauling items. The second is a low, flat platform with side rails, similar to a furniture-moving 'Dolly'. This seems intended to be a transport for the players, but knocks players off at an incline (up or down). The third offers a large, approximately 7x7 platform on which structures may be placed, similar to a dino platform saddle. Players and dinos may not sit in the cart but may stand on the 'Dolly' and platform types. All carts have an inventory that carries up to 5,000 lbs. but only 20 slots for items. (as of 07-27-18)
Once placed, minitrains cannot be picked up and must be destroyed. Tracks cannot be placed under a minitrain.
To prevent Minitrains from running off the end of a track, A second Train Station must be placed at the end of the track to stop the train without it going off the track. Blocks may not be placed adjacent to track, but track may be placed adjacent to blocks.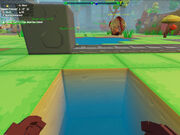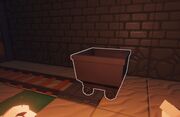 Train Building Platform 1x Wood, 1x Rock, 9x Fiber
Minitrains are powered by coal and travel slightly faster than survivor walking pace. Coal may be placed in the fuel slots but not in the inventory slots.
The direction of travel is shown as "Advance" and "Return". Direction is based on which Train Station is placed first. The train will "Advance to the second Train Station and "Return" to the first Train Station
A minitrain will run off the end of a track regardless of if there is a block to prevent it doing so. Once the minitrain has gone off the end of the track, it cannot be restarted and must be destroyed. Similarly, if a minitrain stops mid-journey for any reason (running out of fuel, being turned off, etc.) and is not at a Train Station, it will give the option to "Advance" or "Return" based on which direction it was heading at the time it stopped.
As minitrains do not have seats, it can be challenging to ride them. When starting, the minitrain will often leave without the player. It is possible to jump onto a moving minitrain from the rear if the jump is timed correctly. Players are almost always knocked off if the minitrain turns a corner or starts on an incline. Laying prone on the minitrain can help but is still unreliable.
While it is possible to stand on the open version of the Minitrain Minecar, it is nearly impossible to keep from getting knocked off while traveling on an inclined track.
The Train Station does need to be placed on the ground, but the tracks do not. It is possible to make a "sky train". After building a tower or platform to place the starting Train Station, connect the minitrain tracks.
Once the minecar is moving, it cannot be stopped unless it is near a Train Station.
It will tend to stop moving once it has traveled out of render distance in most cases. It will also dissapear if it gets too far from from render distance, and leave behind a bag with the items it was carrying including any coal that hasn't been used yet