Magic Wood
Collected from magic trees. Can be used to create magic.
Resource
Dropped by
Treant
Found
Elemental Tree
Item
Weight
0.05
Stack size
100
Item ID
404

Spawn Command

cheat giveitemnum 404 1 0 0

or

cheat giveitem "Blueprint'/Game/Mods/CubeWorld/Blueprints/Resources/First_Resources/CW_Resource_MagicWood.CW_Resource_MagicWood'" 1 0 0

Crafting
Used to craft

0 items

Used to craft
17 items
The Magic Wood is an item in Pixark.
Overview
[
]
Magic Wood can be obtained by using an Axe on a Magic Tree which can be found in Magic Forest Zones.
Crafting
[
]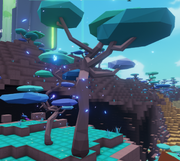 Usage
[
]
Additional notes
[
]