The pollo is one of the creatures in Pixark.
Museum descriptions
[
]
Wild
[
]
Gargoyles usually maintain a special stone form. Only when enemies approach do they transform into their true forms. They can use their wings to fly with great effect.
Tame
[
]
Tamed Gargoyles have learned to channel holy power with the help of humans. They can aid surrounding companions by speeding up their recovery.
Appearance
[
]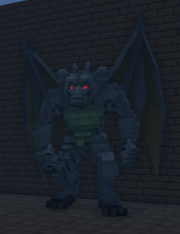 At first, the gargoyle looks like a stone statue. If angered by hitting the statue, it transforms into a flying stone creature.
Behavior
[
]
It stays as a stone statue until the player is close to it, where it will then break free from it's stone form and attack. Flies very slowly toward the player. Similar to the Treant, the Gargoyle will return to statue form if the player flies far enough away.
Drops
[
]
Stats
[
]
1Percentages are based on the value of the stat the moment the creature was tamed (after taming effectiveness)
2The absolute Base damage for its primary attack is shown here instead of the percentage.
3Movement speed is always 100% and can not be leveled
4Torpidity increases every level on wild creatures, but can not be increased once they are tamed.
Movement Speed
Movement Type
Base Speed
Sprinting

Stamina Used

Wild
Domesticated
Walking
250
N/A
N/A
3
Swimming
300
N/A
N/A
N/A
Flying
500
3000
3000
0.275
Attacks
[
]
Melee
Button
Stamina Cost
Attack Range
Description
Lmb
20

700

The Gargoyle swipes with a claw.
Attack Type
Damage
Melee
Impact
60
Wing Attack
Button
Stamina Cost
Attack Range
Description
Rmb
40

660

The Gargoyle flaps its wings, dealing a small amount of damage and pushing enemies back.
Attack Type
Damage
Melee
Impact
6
Regeneration
Button
Stamina Cost
Attack Range
Description
C
The gargoyle casts a regeneration spell that affects itself and nearby allies, but not the rider. Gargoyle must be landed. Spell lasts 60 seconds, and then has a 120 seconds buff cooldown.
Attack Type
Damage
Buff
Impact
Taming
[
]

Note: Non-magical Sleepy Arrows fired from a bow or crossbow deliver extra torpor over time for 5 seconds after impact. Only two instances of this effect can be in effect at once - a third arrow hit before the effect has fully resolved will result in potential torpor being wasted. For maximum efficiency, time your shots so that they land 5 seconds apart. The numbers given here are assuming you do so.
For passive tames, there is a long wait between the first and second feedings as the creature eats, after which it follows the feeding intervals listed. These feeding intervals are estimates - the actual interval will vary per-creature based on random chance.
Level 1
Time
Kibble (Fire Spider Egg)
2
0:08:36
Raw Thigh Meat
4
0:05:44
Cooked Prime Meat
7
0:10:31
Cooked Prime Meat Jerky
7
0:10:31
Meat
10
0:10:44
Cooked Meat
19
0:13:36
Cooked Meat Jerky
19
0:13:36

KO

: × 5; × 9
Level 30
Time
Kibble (Fire Spider Egg)
2
0:08:36
Raw Thigh Meat
4
0:05:44
Cooked Prime Meat
8
0:12:02
Cooked Prime Meat Jerky
8
0:12:02
Meat
12
0:12:53
Cooked Meat
23
0:16:28
Cooked Meat Jerky
23
0:16:28

KO

: × 7; × 11
Level 60
Time
Kibble (Fire Spider Egg)
2
0:08:36
Raw Thigh Meat
5
0:07:10
Cooked Prime Meat
9
0:13:32
Cooked Prime Meat Jerky
9
0:13:32
Meat
14
0:15:02
Cooked Meat
27
0:19:19
Cooked Meat Jerky
27
0:19:19

KO

: × 8; × 14
Level 90
Time
Kibble (Fire Spider Egg)
2
0:08:36
Raw Thigh Meat
6
0:08:36
Cooked Prime Meat
11
0:16:32
Cooked Prime Meat Jerky
11
0:16:32
Meat
16
0:17:11
Cooked Meat
32
0:22:54
Cooked Meat Jerky
32
0:22:54

KO

: × 10; × 16
Level 120
Time
Kibble (Fire Spider Egg)
3
0:12:53
Raw Thigh Meat
6
0:08:36
Cooked Prime Meat
12
0:18:02
Cooked Prime Meat Jerky
12
0:18:02
Meat
18
0:19:19
Cooked Meat
36
0:25:46
Cooked Meat Jerky
36
0:25:46

KO

: × 11; × 19

You must stay in the magic forest while taming otherwise it will run away from you.
Combat
[
]
The Gargoyle is good in battle as it can fly away swiftly and heal before returning to battle.
A Gryphon/Ghost Dragon is easily better with damage and health, but the Gargoyle's speed and healing attack makes it a fine dino to start with.
Utility
[
]
It is a very fast flying mount (as soon as it is tamed).
+ it can destroy stone structures with its melee attack.
+ Most enemy creatures are passive towards tamed Gargoyle unless provoked or unless the player dismounts.
+ By far the fastest flying mount in the game.
+ Uses little stamina while flying, even when dashing.
+ Even low level Gargoyles come with decent health.
+ Does not require or have a saddle. (even Low level Players can tame them as long as they have a Bow and Magic Sleepy Arrow)
+ While midair, pressing dismount makes the rider stand on top of it, giving a huge advantage in knocking out most dangerous ground creatures. It is a perfect taming-assist creature due to the fastest speed that can kite the flying creatures (Ghost Dragon, Gryphon) around. Also useful during a Thunderstorm, as you will likely not fall, but instead stand on its back/head.
+ With "C", it has an AoE Regenerative ability for all Tames, including itself. Can be used when landed, and lasts 60 seconds, but be cautious as no Stamina will be regenerated during the effect. After the animation, you can move again.
- It can't Grab other Creatures in flight.
- Cannot move and attack at the same time, as the player will rubberband back a few steps each attack. It's attack is also slightly slower than most.
- As of 1.12, it uses up a lot more stamina with it's attacks.
- Flying speed reduced from 3000 to 180
- Can only attack while flying
- Tamed Gargoyle's base damage reduced from 60 to 54
-Tamed Gargoyle's can transform into statue
Additional notes
[
]
Trivia
[
]