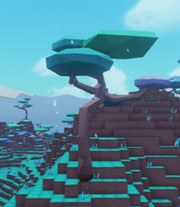 The Elemental Trees, or Mageweave Trees as they are referred to as in the Museum, are a type of tree that grows in Pixark.
Overview
[
]
Elemental Trees are found in the Magic Forest Biome. These trees emit glowy particles and are a gorgeous sight, despite being in such a dangerous biome.
They are very valuable, as their wood is required for many items in the Magic skills Engrams.
Usage
[
]
Can be harvested for Magic Wood, Mageweave Bark, and , rarely, Mageweave Tree Seeds.
Additional Notes
[
]
The appearance of Elemental Trees varies based on how deep the Biome goes.
In the Museum the hologram infobox for this tree refers to it as a "Mageweave Tree", which differs from their actual in-game scan name of "Elemental Tree".