Dirt

A block of dirt. Can be placed.
Resource
Type
Block
Tool
Pickaxe
Item
Weight
0.1
Stack size
100
Item ID
2

Spawn Command

cheat giveitemnum 2 1 0 0

or

cheat giveitem "Blueprint'/Game/Mods/CubeWorld/Blueprints/Resources/First_Resources/CW_Resource_Dirt.CW_Resource_Dirt'" 1 0 0

Crafting
Used to craft

0 items

Used to craft
3 items
Dirt is a basic natural block in Pixark.
Overview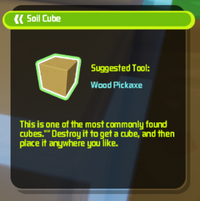 Dirt can be found everywhere in the world. Biomes usually have their own variation. Obtained from breaking Soil Cubes or Grass Blocks.
Construction
Dirt is a natural block, and can be placed adjacent to any other block. It cannot be picked up, but it can be mined again with a Pick.
Usage
Construction
Placing a Dirt block in water changes it into a Clay block.
If provided with a water source, it can be used for growing crops.
Crafting component.
Additional notes
You can now turn dirt back into a Grass Cube at the Construction Hut.