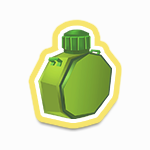 The Copper Kettle is an item in Pixark.
Overview
[
]
Crafting
[
]
Usage
[
]
Copper Kettles can be filled from water taps or while under water.
To fill one from a water tap, merely place it in the water tap's inventory and wait a moment for it to fill.
Steps to fill while under water:
1. Put the bag in a slot in your hotbar.
2. Get under water. You must be fully submerged, not merely standing in water.
3. Press the correlating button to fill it.
Additional notes
[
]
Like with all water containers, you must be fully submerged in water in order to fill a Copper Kettle when not using a water tap.