Argentavis
The Argentavis is one of the creatures in Pixark.
Wild Argentavis has little interest in other animals, and only attacks those that get too close.
Although a trained Argentavis is slower than a Pteranodon, its great strength can launch humans and mid-sized creatures into the air. Its high stamina also makes it suitable for long distance travel.
The lack of food of the desert biome has forced the Argentavis to change its hunting patterns; the desert subspecies will grab onto prey with either its claws or its more powerful beak. The color and crest are also visually distinguished from its non-subspecies counterpart.
Argentavis, it's weight can reach 70kg and its wingspan can reach 7 meters. It is the ancestor of some large raptors.
The Argentavis is a large, red-orange bird with a fan-shaped tail and crest. It is easily spotted because of its bright colors.
A subspecies, the Argentavis (Desert) is plumed with dark red and purple feathers.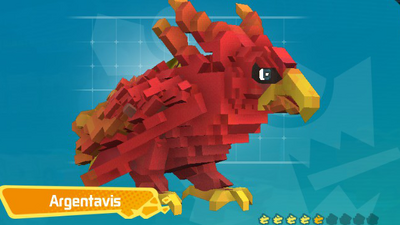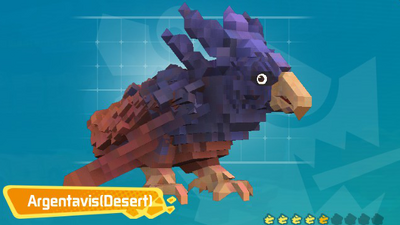 Tends to fly in the sky but occasionally lands to regain stamina before taking to the air once again.
1Percentages are based on the value of the stat the moment the creature was tamed (after taming effectiveness)
2The absolute Base damage for its primary attack is shown here instead of the percentage.
3Movement speed is always 100% and can not be leveled
4Torpidity increases every level on wild creatures, but can not be increased once they are tamed.
Movement Speed
Movement Type
Base Speed
Sprinting

Stamina Used

Wild
Domesticated
Walking
260
N/A
N/A
5
Swimming
300
N/A
N/A
N/A
Flying
600
727.500122
1350
0.275
Claw
Button
Stamina Cost
Attack Range
Description
Lmb
10

500

The argentavis swings its claws forward.
Attack Type
Damage
Melee
Impact
60
Grab
Button
Stamina Cost
Attack Range
Description
Rmb
20

500

The argentavis grabs a creature with a drag weight less than 130.
Attack Type
Damage
Melee
Impact
0

Note: Non-magical Sleepy Arrows fired from a bow or crossbow deliver extra torpor over time for 5 seconds after impact. Only two instances of this effect can be in effect at once - a third arrow hit before the effect has fully resolved will result in potential torpor being wasted. For maximum efficiency, time your shots so that they land 5 seconds apart. The numbers given here are assuming you do so.
For passive tames, there is a long wait between the first and second feedings as the creature eats, after which it follows the feeding intervals listed. These feeding intervals are estimates - the actual interval will vary per-creature based on random chance.
Level 1
Time
Kibble (Stegosaurus Egg)
2
0:10:49
Raw Thigh Meat
4
0:07:13
Cooked Prime Meat
7
0:13:14
Cooked Prime Meat Jerky
7
0:13:14
Meat
10
0:13:31
Cooked Meat
19
0:17:07
Cooked Meat Jerky
19
0:17:07

KO

: × 397; × 112; × 17; × 22; × 3
Level 30
Time
Kibble (Stegosaurus Egg)
2
0:10:49
Raw Thigh Meat
4
0:07:13
Cooked Prime Meat
8
0:15:08
Cooked Prime Meat Jerky
8
0:15:08
Meat
12
0:16:13
Cooked Meat
23
0:20:43
Cooked Meat Jerky
23
0:20:43

KO

: × 512; × 144; × 22; × 29; × 3
Level 60
Time
Kibble (Stegosaurus Egg)
2
0:10:49
Raw Thigh Meat
5
0:09:01
Cooked Prime Meat
9
0:17:01
Cooked Prime Meat Jerky
9
0:17:01
Meat
14
0:18:55
Cooked Meat
27
0:24:19
Cooked Meat Jerky
27
0:24:19

KO

: × 631; × 177; × 27; × 35; × 4
Level 90
Time
Kibble (Stegosaurus Egg)
2
0:10:49
Raw Thigh Meat
6
0:10:49
Cooked Prime Meat
11
0:20:48
Cooked Prime Meat Jerky
11
0:20:48
Meat
16
0:21:37
Cooked Meat
32
0:28:49
Cooked Meat Jerky
32
0:28:49

KO

: × 750; × 210; × 32; × 42; × 5
Level 120
Time
Kibble (Stegosaurus Egg)
3
0:16:13
Raw Thigh Meat
6
0:10:49
Cooked Prime Meat
12
0:22:41
Cooked Prime Meat Jerky
12
0:22:41
Meat
18
0:24:19
Cooked Meat
36
0:32:25
Cooked Meat Jerky
36
0:32:25

KO

: × 870; × 244; × 37; × 49; × 5
Can attack other creatures on the ground or in the air with it's powerful beak. It can also attack dinos carried in its claws. Note: The Desert Argentavis cannot attack carried creatures. The Argentavis cannot attack while on the ground, however the Desert Argentavis can.
High level Argentavis are capable of killing Rexes and Sauropods with points put into attack.
Can be used to carry small tribe tame (E.g. Raptor and Shadow Leopard) in PVE, and wild Creatures and players (PVP)
Note: Friend/Enemy/Wild Creature carry is disabled by default for PVE servers, but can be enabled by adding the following command to GameUserSettings.ini
   AllowFlyerCarryPvE=1

Ps4: Please note that both Argentavis types, have slightly different functionalities.
The Red Argentavis: - Can pick up a wild tame AND attack it while airborne. - Can only attack while airborne.
Argentavis (Desert): - CANNOT attack a tame that it is carrying. - Can attack while grounded/not airborne.
Please keep these notes in mind while selecting your tames.
~ p0x
Ps4: Argentavis and Argentavis (Desert) Cannot currently, interbreed.
~ p0x